Hikvision cameras: the world's largest CCTV, NVR and DVR brand globally
Founded in 2001, Hikvision has grown into a large camera and video surveillance brand in a small regional city in a surprisingly short time.
This is a profile of the Chinese CCTV giant, dating back to history, detailing the increasingly muscular approach to acquisitions and latest products in network videos.
Hikvision cameras background
The Chinese video surveillance company Hangzhou Hikvision Digital Technology Company Limited (Hikvision) was founded in 2001 and was listed on the Shenzhen Stock Exchange for the first time in 2010. Forbes 2000 is a Chinese government-owned company with offices in 20 locations worldwide. including the US and Canada, South Africa, Brazil, Australia, Singapore, Korea, India and five European countries.
Hikvision has grown tremendously in recent years and has sold $ 3.9 billion (25% outside China) in the 12 months ended December 31, 2015, up 47% from 14 years and more than double $ 1.76 billion last year. We have achieved this increase in sales and global reach partly through acquisitions and partly through organic growth.
In May 2016, Hikvision purchased an unnamed amount from the British security firm Pyronix.
Hikvision has recently opened a new office, showroom and flat in the UK in west London
Hikvision market position and strategy
Hikvision's market share accelerated in parallel with revenue. The IHS research firm has calculated that it has doubled its market share in two years, currently holding 19.5% of the global CCTV and video surveillance equipment market compared to 16.3% in 2014.
The growth of Hikvision cameras overshadows other brands in the CCTV industry, as evidenced by global Hikvision searches (source: Google Trends)
The company's great strength lies in its willingness and ability to reach new customers through a wide network of technology and distribution partners, from global giants such as ADI to local players in individual countries such as WDC Networks in Brazil.
Recent examples of technology partnerships include an agreement with the Swedish video surveillance company Observit AB; a joint project with Eagle Eye Networks to provide video surveillance for cloud security and business intelligence for the Lawrence Police Department in the US; and linking the software to ECMS for surveillance system monitoring services.
This flexibility with respect to joint sales and marketing initiatives is supported by Hikvision's Embedded Open Platform (HEOP) program, which has been designed to allow the download, installation and installation of analytics, sensing and recognition applications running on its network kamerah.
This approach enables customers and security integrators to choose which applications, services, or system management components to use with Hikvision camera hardware, and supports independent evaluation, application development, compatibility testing, and delivery of software development kits (SDKs).
It also allows system integrators to take Hikvision camera footage back to their own websites without the manufacturer's help, and therefore generate their own revenue streams for ongoing service delivery.
While actively targeting customers in the retail, transportation, construction, finance, and pharmaceutical industries, Hikvision has a traditionally strong education that sells control and access systems to colleges, colleges, and universities around the world.
Hikvision The latest technologies
Hikvision maintains a large portfolio of security and security technologies, including:
IP cameras, megapixels, digital, analog and HD CCTV cameras
Digital and Network Video Recorders (DVR / NVR)
Video encoders / decoders
Video management software
Access control and alarm systems.
Hikvision attributes much of its success to camera sales to its speed and scale of product innovation, claiming that about 8% of its annual turnover goes back to R&D each year, with one-third of its global staff (around 5,000 engineers) directly involved. In 2017, Hikvision plans to open two new high-tech R&D facilities in North America - Montreal and Silicon Valley.
Hikvision cameras include H.265 + advanced video encoding, video analytics, cloud computing and big data into their products. The latest Dome and Smart Box cameras and Smart Bullet, for example, support 4K video recording.
These offer 3840 × 2160 pixel resolution, which support more sophisticated video analytics applications such as face or car license plate recognition, and can cover a much wider area with a single camera than is possible with multiple HD models.
While the early success of Hikvision cameras was based on undercutting established competitors (especially in the US and Europe) with relatively inexpensive cameras, it has since used its wide product portfolio to reach all corners of the video surveillance market and offer security solutions in a much wider range of affordable points.
Instead of smaller sites that require 10 or 20 cameras and related infrastructure and management tools, the company is now seeing its customers needing hundreds or thousands of cameras.
It also leverages important resources to identify gaps in video security and analytics across key vertical industries, developing new applications that can take advantage of the latest camera feature to provide customers with some measure of operational advantage.
Examples of innovations here include intercom systems equipped with biometric readers that scan faces and fingerprints for accurate authentication and door entry, as well as "thermal imaging" technology that helps sellers monitor the flow of traffic in stores and malls as response to marketing and promotion campaigns.
Elsewhere, a mobile vehicle solution has been developed for transport companies using a magnetic stick camera, built-in WiFi and 3G / 4G connectivity, long-life batteries and integrated data storage capabilities on the inside of buses and trains, with a one-stop security terminal , which combines video recording, storage and display capabilities in one compact, multi - use unit. This video introduces the new Hikvision Falcon Drone that brings control to the sky.
For: www.ifsecglobal.com/video-surveillance/hikvision-profile-biggest-video-surveillance-brand-global-sales/
Hikvision, a surveillance giant that strolls and spies across US and Chinese soil
China's Hikvision, the world's largest provider of video surveillance systems and providers of Xinjiang police services, this may be a moment of truth.
People visit the Hikvision booth at the Shanghai International Exhibition, May 24, 2019. REUTERS / Aly Song / File Photo
Hikvision has not been able to sell US federal agencies since August 13, "thanks to a law passed last year that saved five Chinese companies from potential security threats because their products could provide access to sensitive systems.
This has forced the company, which earns nearly 30% of its revenue of 50 billion yuan ($ 7.12 billion) from abroad, to tighten its assurance of security and human rights in the West without the Chinese government. , important clients, and almighty anger supervisor.
The company known as Hangzhou Hikvision Digital Technology Co. Ltd., is publicly trying to distance itself from Xinjiang to ease U.S. restrictions.
Hikvision signed PPP agreements worth 1.9 billion yuan (an average of 370 million yuan) between 2016 and 2017.
Although agreements for Xinjiang were rejected because the US Congress was banned last year, previously unannounced procurement documents reviewed by Reuters indicate that Hikvision surveillance equipment was mentioned in more than 110 million yuan contracts with Chinese police, the military and the courts.
The United Nations says that about one million people, mostly members of the Muslim Uighur minority, have credible estimates of detention without official allegations in Xinjiang.
A Hikvision spokesman said the company was taking "global human rights very seriously" and noted that its technology was also used in shops, traffic control and office buildings.
"We don't know where or how our products are sold or used," said a Xinjiang spokesman. "All our activities must comply with the company's compliance policy."
Hikvision did not want to say what its compliance guidelines are, but said it complies with local laws.
China's Public Safety Office and Xinjiang Uighur's Office of Public Safety, where the projects were announced, did not respond to faxed requests for comment.
Foreign investors who once joined the company, including UBS AG, have sold at least 300 million of their shares in the last five months. This is also reflected in cooperation in Xinjiang, China's expanded control country.
"Hikvision has to decide whether it wants to be a global company or ... just a company based in China," said a former top investor in Hikvision, which has sold its stake in human rights companies. The condition of anonymity spoke because he was not authorized to speak to the media.
XINJIANG ORDERS = HIKVISION
At the heart of Hikvision's business are surveillance cameras that have become ubiquitous in many parts of the world. It also sells much more sophisticated integrated systems, often incorporating face recognition technology as well as hardware for other security vendors.
Projects in 2016-17 include mosque plant identification and surveillance systems, documents and Hikvision. Human rights groups say such top-level mass surveillance is at the heart of oppression.
The documents also cited such systems for a "training center" - a sentence used by Chinese authorities to describe what outside researchers say is internment camps. Hikvision has confirmed its participation in this project.
Since the US procurement ban in August 2018, Hikvision technology has been mentioned in at least 27 calls for tender in the Uighur Xinjiang Autonomous Region, including contracts for the supply of surveillance equipment to the police, military and the court.
They were worth at least 110.5 million yuan in total, according to procurement documents.
Many calls are heavily regulated to eliminate project specifics, overall budgets and cost breakdowns. But an overview of Hikvision's 6 million yuan Hikvision technology shows thousands of company surveillance cameras, as well as storage and data transfer technology.
One project by the Department of Public Safety of the Xinjiang Uighur Autonomous Region of September 28, 2018 requires 50 units of Hikvision cameras totaling 425,000 yuan. Another project, the control upgrades for the Communist Party military committee in Urumqi worth 510,000 yuan, was listed by Hikvision as the main supplier of equipment in the April 10, 2018 tender.
The company's technology has also been used since the beginning of 2018 in at least 180 million yuan of smaller contracts, including commercial, military and police projects.
A Hikvision spokesman said the company does not always know where its technology is sold through third parties.
The Chinese Public Security Bureau and the Xinjiang Uighur Autonomous Region Public Security Bureau did not respond to fake requests for comment.
Commerce Department spokesman Kevin Manning declined to comment on Hikvision and whether the agency would add it to the list of entities, citing a policy that the agency would not comment on any additions to the list.
Reuters reported in May that the administration was considering sanctions similar to Huawei for Hikwis for handling Uighurs in China.
And fears of China's high-tech surveillance programs have fueled resistance to protests in Hong Kong, which uses the equipment of Hikvisi and other Chinese surveillance companies.
INVESTOR EXCURSION
Despite the sale of foreign investors, Hikvision continues to grow. Revenue for the first half of 2019 increased 14.6% compared to previous years to 23.9 billion yuan in the first half. 29% of sales came from overseas markets compared to 30% a year ago, and almost half came from "front-end products" such as cameras.
Hikvision is owned by 42% of Chinese state-owned investors and two key founders.
As of August 6, investors using the Shenzhen-Hong Kong Stock Connect share, which allows international investors to trade Chinese-listed Hikvision shares, have held 582 million shares in the company, up 34 percent from 879.5 million shares at the end of March. according to HKEX.
The stock has dropped 4.2% in the last year. UBS AG's sole direct institutional foreign investor, which was Hikvision's ninth largest shareholder in March 2019, has since been ranked among the top 10 investors, according to company data.
UBS declined to comment.
Hikvision has started lobbying in the US over concerns about the use of its surveillance technology.
As of June 2018, the US branch of Hikvision has paid two lobbying organizations, Glover Park Group and Sidley Austin, approximately $ 1.63 million in fees for NDAA-related work in public announcements. No companies responded to requests for comment.
The company's efforts to update its image also include a 99-page, 99-page environmental, social and management report, which Xinjiang did not mention.
The report states that the firm hired American law firm Arent Fox LLP over the past year to conduct an internal review to "better protect" human rights.
The report, overseen by Arent Fox partner Pierre-Richard Prosper, the former US ambassador-at-large for war crimes issues, included at least two routes to China, the report states.
Hikvision confirmed that the trips included Xinjiang, but said the company had not yet prepared a report on the trip's findings.
Arent Fox and Prosper did not respond to requests for comment.
For: https://www.reuters.com/article/us-hikvision-china-insight/hikvision-a-surveillance-powerhouse-walks-us-china-tightrope-idUSKCN1VJ05C
Hikvision cameras have already taken an photo of you - There is a 95% probability
Hikvision cameras are installed in military bases, airports and schools. The Trump administration is concerned about Chinese espionage tactics
The US government is considering buying two Chinese video surveillance giants to buy US technology, but their cameras are already scanning suburban roads and military bases across America.
Hangzhou Hikvision Digital Technology Co. and Zhejiang Dahua Technology Co. may not be a well-known name, but you've probably shot surveillance cameras. According to Deutsche Bank AG, both companies control one third of the global video surveillance market. With their cameras, they protect businesses, airports, schools and government agencies in the US - and around the world.
For example, Hikvision cameras in the UK control the London Underground system and have been installed in the Houses of Parliament, according to reports and some lawmakers. A spokeswoman for the lower house denied she was in parliament.
Tightening the ropes around Chinese tech companies is based on the Trump government's belief that China poses an economic, technological and political threat and that the country may retaliate. Both companies have expressed fears that, according to their acquaintances, they could get a job in espionage. Last week, the board of Huawei Technologies Co. banned the purchase of US technology due to similar suspicions of spying and Chinese laws requiring domestic companies to provide information on request.
US is also considering giving Chinese companies Xiamen Meiya Pico Information Co., Beijing Megvii Co. and Iflytek Co. prevent the purchase of components or software in the United States. All three are technology companies and Megvii is one of the most valuable artificial intelligence startups in the world.
Hikvision sells cameras controlled by the Chinese government, and Dahua is the market leader in surveillance technology. These cameras can produce sharp color images in fog and near perfect darkness. They also use artificial intelligence to manage 3D cameras for human counting and large-scale face recognition systems.
The reports linked the technology of both companies to human rights abuses faced by hundreds of thousands of Uighurs, mostly Muslim ethnic minorities, who were identified by face-recognition systems and then imprisoned in secret camps in China.
Lawmakers from both sides have called for U.S. sanctions on Chinese officials for mass surveillance in Western China, and last year called on Congress to blacklist Hikvision cameras and Dahua commerce ministries. This resulted in a letter from 24 senators and 19 representatives. They called for stricter export controls to help US companies support the Chinese control system.
A Hikvision spokesman said they took these concerns "very seriously". Hikvision has been working with the US government last October to resolve the issue, and has authorized a human rights expert and former US ambassador Pierre-Richard Prosper to advise the company on human rights compliance, a spokesman said. Dahua did not respond to email requests for comment.
Hikvision and Dahua are already under scrutiny in the West and some security providers are reluctant to buy their equipment. One company removed hundreds of Dahua cameras in 2017 after finding a secret behind-the-scenes device, according to Maryland-based reFirm Labs. According to company co-founder Terry Dunlap, ReFirm also found that the company information was sold to off-camera cameras at an unknown Chinese IP address.
"Considering the fact that many other Dahua products contain exactly the same hinterland, it is strongly recommended that you not connect Dahua products to critical or sensitive networks," ReFirm said in its incident report.
Last year, President Donald Trump passed a bill to ban the use of Dahua or Hikvision cameras in the US government. The law is set to enter into force in August.
But the ban has already curtailed Hikvision sales in the U.S., said John Honovich, founder of IPVM, a video surveillance researcher. The company generated $ 7.42 billion in revenue in 2018, representing about 6% of U.S. revenue, Honovich said. Hikvision is probably the second largest provider of video surveillance cameras in the US, Honovich said. His cameras are most commonly used in small and medium-sized businesses such as mothers and pop restaurants, bodegas and shops. They are also reviewing affordable housing projects, municipal offices and schools, he said.
Both Hikvision and Dahua were founded in Hangzhou in 2001 and now have offices in North America that employ hundreds of people. China's obsession with citizen control has helped them gain a dominant position. According to a BIS survey, the market size will reach $ 32 billion in 2017 and increase by 16% annually by 2023. In April, Dahua and Hikvision launched new artificial intelligence and video products in the cloud in Las Vegas, the largest trade show in the US security industry.
The US is not the only country covered by Hikvision cameras: it sells them to more than 100 countries - including a contract to supply more than 100 CCTV cameras and surveillance systems to the Jordanian Parliament.
In the UK, where tens of thousands of Britons are the most surveyed population of Western democracies in video surveillance, Hikvision has found a market for its cameras and more for the facial recognition software it sells for surveillance.
Alan West, a retired British admiral who is now in the position of Lord, said he was concerned that the British government had failed to properly consider or take steps to address the security risks posed by the introduction of Hikvision cameras.
"I'm not mistaken if anyone looks at this issue thoroughly and figures out how to eliminate any potential risks," he said. "But I'm not sure people actually solved the problem."
West said he is particularly concerned that with the advent of 5G wireless networks, such cameras will easily turn into listening devices that provide audio and video to hostile power.
Other companies may join the top five in the U.S. on a so-called list of entities that ban the sale of U.S. technology without a special license, according to people familiar with the matter. Hikvision and Dahuain smaller rival Yitu Technology also make control hardware, while others such as SenseTime Group Ltd. and Face ++ parents of Megvii, specialize in image processing software and are less dependent on US components.
Hikvision, one of China's most popular foreign investor stocks, has fallen to its lowest point since January. Foreigners are selling Chinese stocks as a whole: they charged 47 billion yuan in listed stocks this month, more than double the monthly high in April.
Morgan Stanley said in an investor announcement that it expects Amba rella Inc. The company that sells Hikvision and Dahua video processing chips has an impact on overall earnings, "probably a high percentage of teenage sales."
Hikvision hired Mercury Public Services, LLC in August for services that included contacts with officials on the National Defense Authorization Act, according to documents submitted to the Department of Justice.
For: https://www.bloomberg.com/news/articles/2019-05-22/china-s-hikvision-weighed-for-us-ban-has-probably-filmed-you
Hikvision cameras stand behind China's mass surveillance system
Hikvision has been the supplier of hundreds of government-led projects in major cities, including Shanghai, Hangzhou and Urumqi
Saleswoman at Security China Monitor 2018 in Beijing showcases human identification technology from Hikvision state surveillance equipment manufacturer. Photo: AP
Big Brother in China is watching you, and there is a good chance he is watching it with a camera made by Hangzhou Hikvision Digital Technology, one of the world's largest suppliers of video surveillance equipment. Here's what you need to know about Hikvision.
What does Hikvision do?
Founded in 2001, Hikvision has spilled over from a former Chinese government research institute into $ 39 billion, specializing in professional video surveillance cameras.
Headquartered in east China's Hangzhou and listed in Shenzhen, Hikvision is a supplier to hundreds of government-led projects in major cities, including Shanghai, Hangzhou and Urumqi, where its cameras can capture clear footage of vehicles and passengers Hikvision's Terms of Visibility expanded into the consumer space in 2013 with the EZVIZ brand, which makes home and office surveillance equipment.
Who owns Hikvision?
About 42 percent of the company is owned by state-owned companies, with China Hronics Group as the largest owner, which owns 39.6 percent of the company.
President Chen Zongnian, 54, founded Hikvision with two alumni from Huazhong University of Science and Technology while working in the research department of China Electronics Technology Group Corporation.
How big is the control market and what is Hikvision's position on it?
The London-based market research firm IHS Markit, which reported in July, will grow the global video surveillance equipment market in 2018 by 10.2 percent to $ 18.5 billion. China's market for professional video surveillance equipment, accounting for 44 percent of all global revenue, grew 14.7 percent in 2017, outpacing the rest of the world, growing only 5.5 percent, the report found.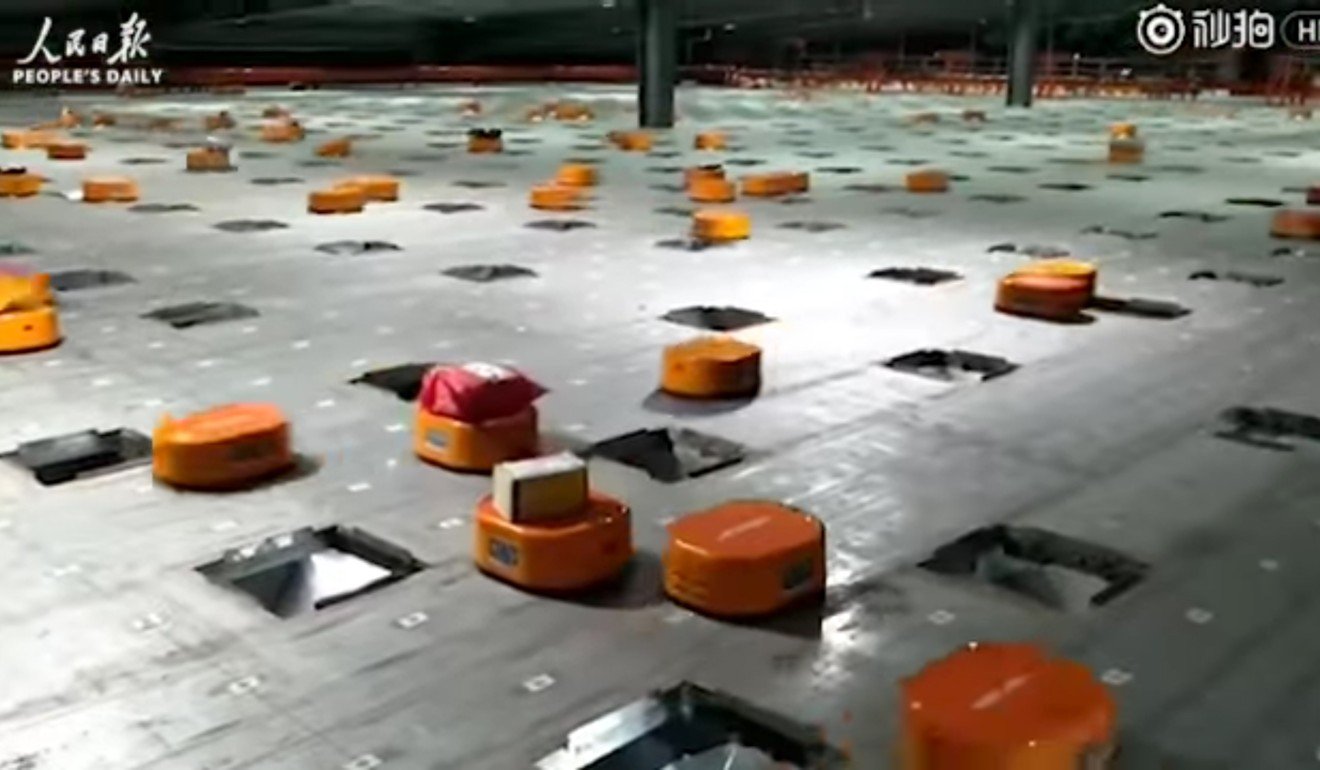 The Hikvision army of orange robots at the Chinese Shentong Fast Delivery Warehouse (WTO) in Hangzhou, Zhejiang province. Photo: Brochure
Hikvision held a 21.4 percent share of the global closed-circuit television and video surveillance equipment market in 2017, IHS Markit reports.
The meteoric rise of Hikvisia comes amid growing demands for public scrutiny by the Chinese government. China's Skynet project, a national surveillance system aimed at "fighting crime and preventing potential disasters", according to authorities, installed more than 20 million cameras in public spaces in Chinese cities in 2017, and the Sharp Eye project extended the clock to rural areas after all over China, state media reported.
IHS Markit estimated that China had 176 million surveillance cameras in public and private areas in 2017 compared to just 50 million in the US. The researcher expects China to ship around 450 million new cameras to the Chinese market by 2020. The researchers expect about 450 million new cameras to be shipped to the Chinese market.
What are the challenges of Hikvision abroad?
Hikvision products are used in more than 150 countries and regions around the world, including the US and UK. Some of the major overseas projects include surveillance systems in the safe communities of Philadelphia in the US, the Nuremberg train station in Germany and the Brazilian World Cup stadium.
Overseas sales grew 26.7 percent year-on-year in the first half of 2018, reaching 6.2 billion yuan, representing 30 percent of Hikvision's total revenue.
However, the company's ambitions face some obstacles during the ongoing US-China trade war and US steps to break business ties between federal agencies and Chinese control equipment suppliers.
The US Senate passed a national defense approval bill in August 2019 that would prohibit the US government from purchasing Chinese-made surveillance equipment from several Chinese companies, including Hikvision and Hangzhou-based Zhejian Dahua Technology. Hikvision previously supplied equipment to the U.S. military to monitor its base in Missouri and the Memphis Police Department, The Wall Street Journal reported.
Australian media reported in September that they used Hikvision and Dahua devices to spy on the country. According to the report, both companies supply most of the surveillance cameras installed in Australia.